The Great Singapore Sale has revamped itself to become The Great Singapore Imperial Scholar. Simply queue up behind the glass entrance of the National Library as early as 7 am and wait with anticipation as the security guard unlocks the golden sanctuary of Silence. Study! Study! Study! Run to get the best seats! First Come First Serve! The first scholars to enter the sacred palace are rewarded with a higher IQ (even if it is at the expense of a terribly diminishing EQ). The tables near the window will give you better scores in your examinations so "Chope! Chope! Chope!". Display better skills than Bruce Lee with mind-blowing martial arts movements such 'Elbow Jerk', 'Dagger Eyes', 'Fat Body Blocks' and 'KiaSUEee!' guaranteed to leave the jaws of everybody you know dropping to the ground! Hurry! This is a once in a lifetime opportunity to experience the Uniquely Singaporean behaviour of our fellow Singaporeans. Ay... Don't say I never tell you hor.
FATEIN: How arh? Fifth floor no seats.
ME: Don't know. Hey... At this rate do you think we'll be able to do well in the Working World?
FATEIN: At least in the Working World its not Physical.
ME: I think it'll be even scarier if it isn't Physical. Then you don't know what you're dealing with.
5 minutes later. Stationed at the ground floor of the library which opens at 9 am.
FATEIN: I think I'm going to sit right in front of the door.
ME: Haha!!! Are you serious??
She was. Very, very serious.
THE EMO-RIDE HOME.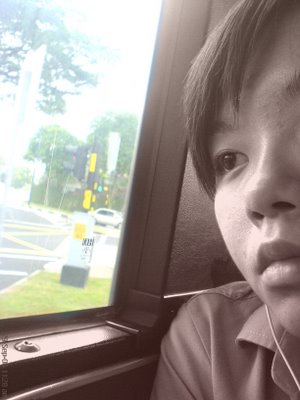 (See this look on my face? It says: Yes I'm half-crazed and sleep-deprived and blur and silly and I actually know it, but WATCH ME because I am going to change the world! Hur hurr...)

Yet another 3 hour Drawing & Painting Paper:




Plastic Comb:


Thus forth, there is an inadvertent suspension of How To Run On Empty.
HAPPY STUDYING! :)